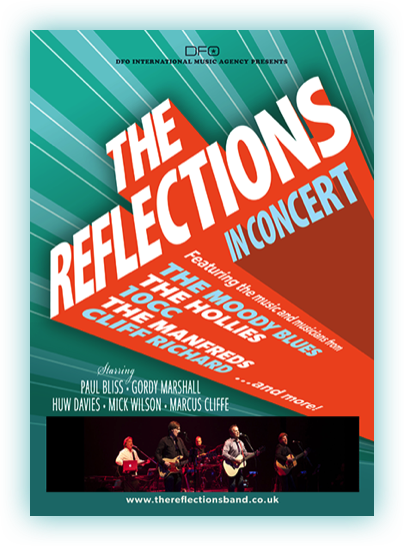 Five world-class musicians, singers and songwriters who, after years of touring and recording with some of the most iconic bands in the world, bring you a great new show highlighting some of the best British Rock and Pop music of a generation.

Featuring special guest Mick Wilson, this band of
current and former musicians with


THE MOODY BLUES

THE HOLLIES

10cc

CLIFF RICHARD

THE MANFREDS

THE WAR of the WORLDS

bring you hit after hit, with some of the greatest songs that formed the soundtrack to our lives.

Whether it's the vastness of the O2 Arena, the grandeur of The Royal Albert Hall, the eminence of The Hollywood Bowl, or the intimacy of Ronnie Scott's, these guys have been there, done that, and bring their world of experience to this show.

Having played with literally dozens of respected & distinguished artists over the years, this isn't just a covers band - these guys ARE the band that helped make these high-profile acts sound so good live and on record......